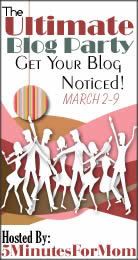 It's finally time for the Blog Party from 5 Minutes for Mom!
Finally, a party I'm invited to! Yay!
Ok, so we're supposed to introduce ourselves.
My name is Melissa. I'm 30 years old, I'm married, and I have a five and a half year old daughter. And no, she's not in school yet because her birthday was a month after the cutoff. And no, she wasn't a bit happy when she found that out either.
I work full time at our county's only newspaper. I'm the News Editor, which is really just a fancy word for "the only person in the county who attends all the events, public meetings, and other functions, takes pictures, writes stories, and lays out newspaper pages." I also write editorials each week, in addition to my feature and news writing duties.
Sometimes it's fun - today, I spent about an hour taking pictures of first graders wearing striped hats for Read Across America Day (and it's also Dr. Suess's birthday I think). Sometimes it isn't - in about a month, I have to cover my first murder trial.
I like to scrapbook and make cards, but I don't have time for much of either. So I just look at other people's stuff and sigh.
My husband and I lead music at our (very small, located in a strip mall) church. We've been married for nearly nine years.
And if you read this site any time at all, you'll know that I'm fighting the Battle of the Bulge, like many of you are. I've lost nearly 70 pounds so far.
I've been blogging since last summer, and I've met some really wonderful folks. I hope that you'll stop by, stop lurking, and post a comment! And I'm always in need of another blog to read, so I can't wait to meet all of you!
So to sum up: Welcome to Melz World!